Congratulations to our EGHS students whose art was accepted into the 2019-2020 Citywide Art Show!   This year's reception will take place the evening of Thursday, March 18th at the Wellington Webb Building.
Accepted students and their work are below. Please congratulate these students when you see them!
Our Vision
Emily Griffith High School, created "for all who wish to learn," continues its vision of equity for all students by offering rigorous coursework in a supportive environment in order to cultivate productive, prepared, and compassionate citizens of the world.
Our Mission
Emily Griffith High School provides pathways for students who choose to pursue their high school diploma or GED and post-secondary goals. An authentic curriculum, flexible scheduling, small class sizes, and robust social/emotional support serve as a springboard for students to demonstrate competency in courses while having the opportunity to simultaneously engage in college, career, and technical education programs.
What We believe
All students have dignity and worth.
All students have the right to be served by the school counseling program
The school counseling program shall be evaluated on stated goals and related student competencies
The school counseling program should be consistent with expected developmental stages of learning.
School counseling program activities shall be planned and coordinated by the counseling staff.
All students' ethnic, cultural, and racial differences and special needs are considered in the planning and implementation of the school counseling program.
The school counseling program will utilize community resources.
The school counseling program shall be managed by state-certified, master's degree-level counselors.
All students should have access to a school counselor to discuss academic, career, and personal/social concerns.
The student and parent(s) are responsible for monitoring the student's educational progress with the assistance of a professional school counselor.
An ongoing program of counselor competency training/retraining is necessary to maintain a quality school counseling program.
Professional mandates and guidelines proposed by the national and state counselors associations will continue to set standards for the school counseling program.
All counselors abide by the professional ethics of guidance and counseling as advocated by the American School Counselor Association (ASCA).
What We Do
EGHS Counselors offer a variety of services to promote growth and success to students in the follow areas:
Academic Development
Personal and Social Development
Career Development
For more detailed information on what we address within those areas, please click here.
EGHS Counselors WANT to get to know each and every student and have the ability to do so with smaller student "caseloads". We all commit to having open door policies and will do our best to individualize our work with students to meet their needs. We recognize the uniqueness of each student, that each has their own potential for success in their future and we hope to be a part of helping them find the pathway to that future!
So students… please come see us for more than just a schedule change or turning in a credit slip!! We want to support you in any way you entrust us to!
Tools for Success
Tutor Program
The flyer above was advertised to the DPS central office employees at the Emily Griffith Campus. The back of the flyer read, "As Central Office Employees, it is easy to lose sight of our connection to the students we work to support each day. DPS Cares works to lessen the disconnect by providing you with opportunities to give personal student support. Starting this month, you can directly empower students by becoming a tutor at Emily Griffith High School. Tutors are asked to commit one hour per week. It's only an elevator ride away!"
The response to the EGHS and DPS Cares partnership was extremely positive. Many employees signed up right away to take part in the pilot program. Now, many of our students are benefitting from extra one on one support. Take a look at what our tutors have to say about the program:
"I feel like my student partner is really appreciating the extra help and I really appreciate having the opportunity to work with the students, so it's a win/win."-Stefan R.
"This has been an invaluable experience for me".-Michelle P.
If you are a student and would like to work with a tutor, please see Pablo Joucovsky (Dean of Culture) in room 315
Clubs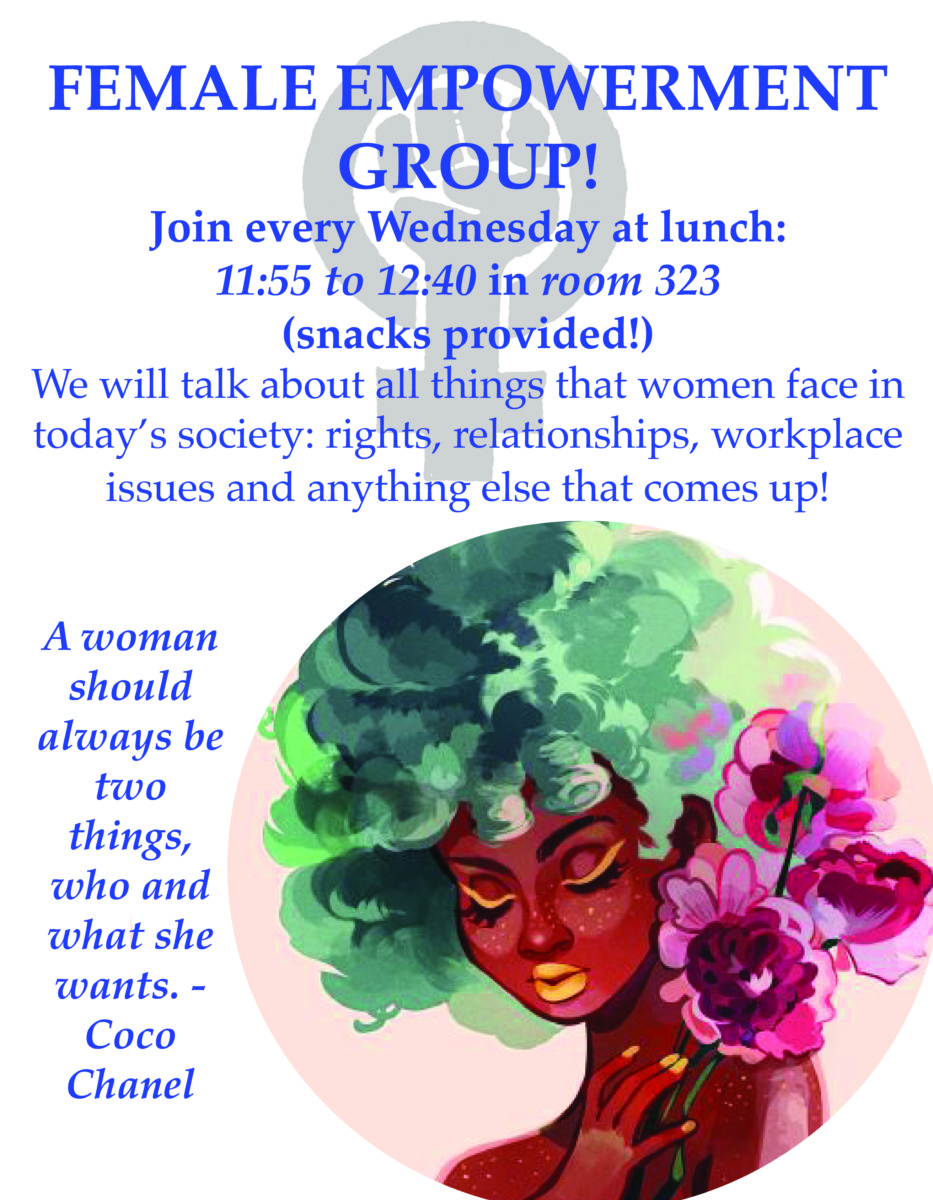 The Female Empowerment Group gathers every Wednesday at lunch to discuss topics that are important to women, healthy relationships, being a woman in the workforce, being a woman of color in the workforce, personal identity and personal empowerment!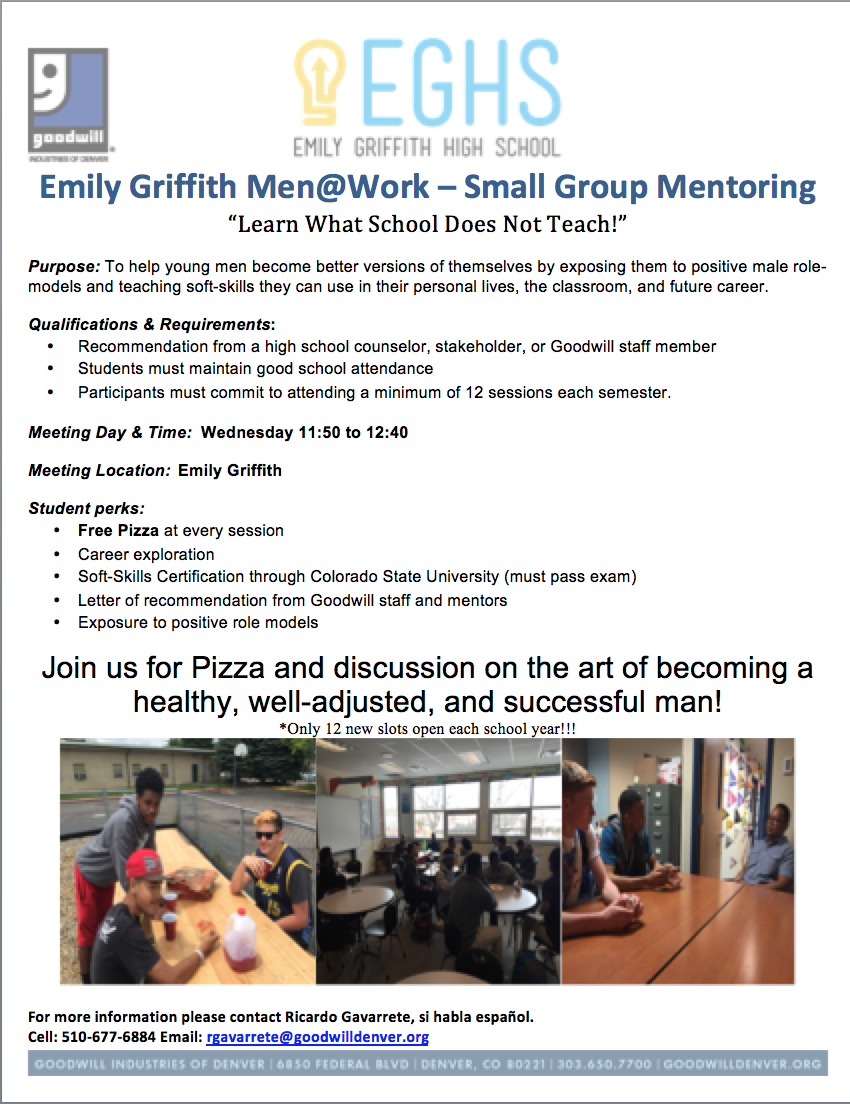 Men at Work is hosted by Goodwill Industries of Denver, is providing help for young men to become better versions of themselves by exposing them to positive male role-models and teaching soft-skills they can use in their personal lives, the classroom, and future career.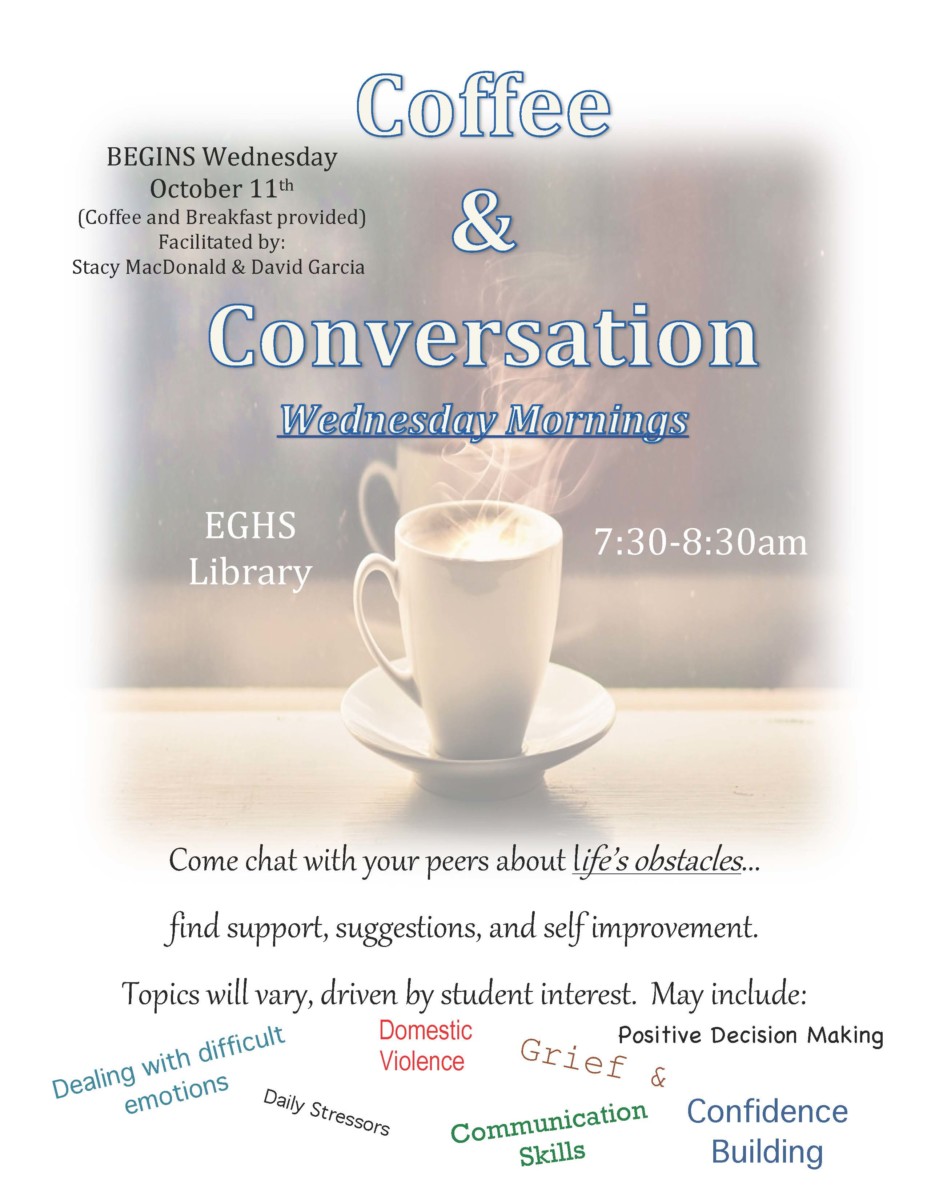 Come chat with your peers about life's obstacles, find support, suggestions, and self improvement. Topics will vary and be driven by student interest.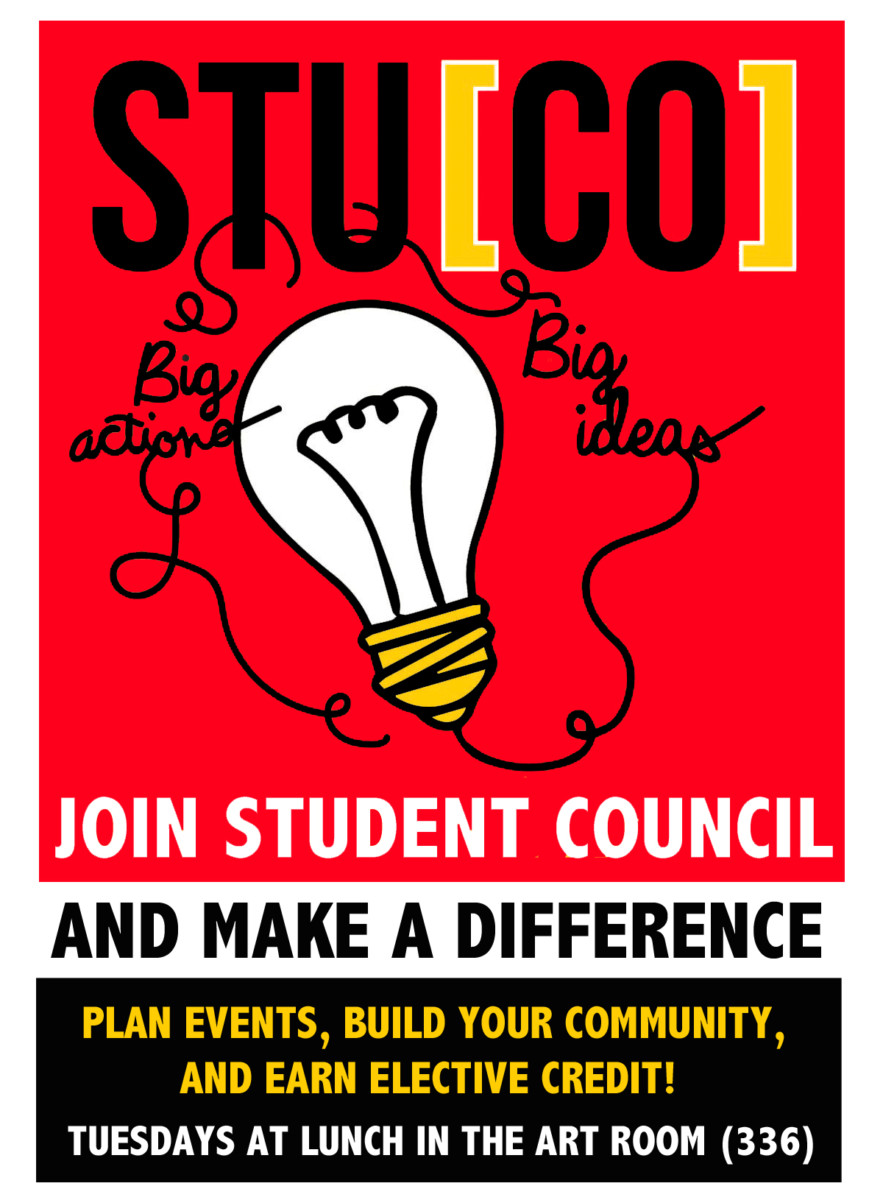 The Student Council assists students and staff in running programs, doing fundraisers, hosting events, providing tours around campus for interested parties and makes the school the best place it can be for it's youth!