The Outdoor Learning Space is an opportunity to meet with a teacher face-to-face. The times are available by appointment only on days your teacher chooses. Please contact your teachers about opportunities for small group learning or individual tutoring. It is important that you read the information below and follow the guidelines for a safe environment.
Outdoor Learning Space Information:
Rules
By signing up for a slot, you agree to the rules:
i. All participants must wear masks
ii. All participants must agree to social distance
iii. If you have been exposed to the virus in the last 2 weeks or are
feeling sick, or experiencing a cough or fever, you will stay home
and contact the teacher you had the appointment with.

Location
The site is located in Congress Park at :
850 Josephine Street, Denver 80206
It is near the corner of Josephine and 8th Avenue. Once in the park, look for the pavilion with picnic tables underneath. There is another pavilion structure inside the fenced-in pool area, that is not our space. Our pavilion is a bit southwest of the pool area.

Hours
Use of the space is by appointment only, and you must sign up for a slot with the teacher you plan to work with. Teachers can choose to use the space for tutoring or small group instruction, but no classes will be held there. Hours that the Outdoor Learning Space is reserved for us are:
Tuesdays: 3:00 – 5:00
Fridays: 10:00- 1:00
Parking
Parking is available on the west side of the park, off of Josephine Street. There is also street parking in the neighborhood.

Facilities
The restrooms are not open this season, but there is a port-o-let in the park designated for our use only. We will have hand sanitizer on site.

What to Bring
Please bring a water bottle, any snacks you might want, and a warmer layer in case the weather changes.

We hope to see you at the Outdoor Learning Space at Congress Park!
Map of Congress Park
We are in the dark blue area that says "Shelter/picnic area," near the middle of the park.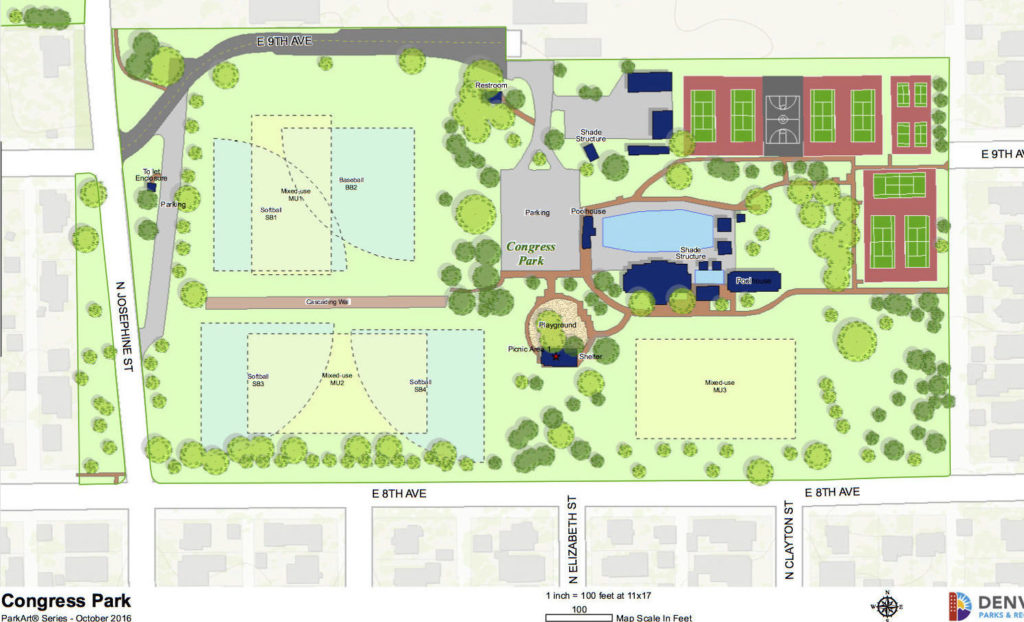 Here are some pictures of the pavilion where you will meet.